According to society's definitions of beauty, your eyes are not beautiful unless they are big and doe-like. As far as beauty standards go, we'd like to say fuck you, because your eyes are beautiful, regardless of whether they're big or small, deep-set or wide, blue or brown. But sometimes, you may want your eyes to look as big as Emma Stone's or Aishwarya Rai's, and that's perfectly fine. It's at times like these that makeup is your best friend, so we'll tell you how to make your eyes look bigger and brighter, even when you haven't managed to get the requisite eight hours of sleep.
Let your brows do the talking.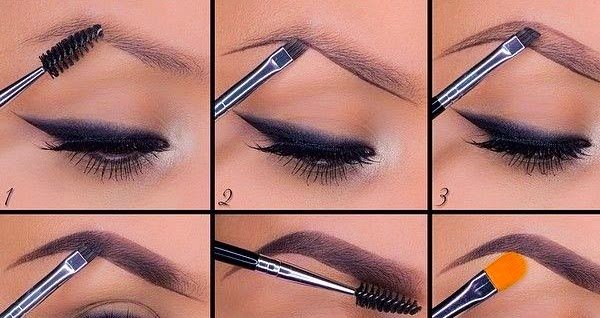 No, you don't have to make regular visits to the salon to make sure your brows are perfectly shaped and trimmed. Full brows are in right now, and all you need to do is define them well using a kajal pencil. You can also try using Korean eyebrow shapers, which are specially designed to mimic thick eyebrows. Your eyes will immediately look bigger when the area surrounding it looks well-groomed. 
Say bye bye to puffy eyes.
Puffy, wrinkly eyes are the first step to making even big eyes look small. If you have puffy eyes, use an eye cream or a cold spoon to calm an inflammation. To lessen wrinkles, dab on a primer which will soften and fill out lines or any crow's feet.
Conceal, don't feel.
Dark circles are often an underlying symptom of something else going on with your body. It might be from a lack of sleep, thyroid problems, or lifestyle issues. Figure out what they're from, and in the meanwhile, use a good concealer to illuminate the area. 
Choose a shade that's slightly lighter than your skin tone, and in a warmer shade like peach or pink, which colour corrects the blue and purple undertones of dark circles. Blend well, using a makeup sponge to dab the colour on your skin instead of rubbing it in.
Tightline all the way.
Using your kajal or eyeliner, line your inner lash line, which make your lashes look thick and full, all of which make your eyes look bigger. Not tightlining creates a gap between your eyeliner and lash line, causing the line to float above your lid.
Find out more about tightlining here.
Line your eyes with style.
Line your eyes only halfway with a dark colour liner, starting from the outer waterline, and smudge the rest of the line. Make sure you smudge all harsh lines using a cotton bud or a brush, because sharp lines define the outlines of your eyes, and make them look smaller.
You can also use white liner to line the waterline, which will also make your eyes look bigger.
To find out what other mistakes you may be making with kajal, check thisout.
Give your lashes some TLC.
People spend so much time on the perfect cat eye, and all these different eye shadows, but they forget to use mascara. Just tightlining the eyes and using mascara too can do so much for your eyes, and you don't even need anything else. Use a lengthening and lifting mascara, and make sure the product isn't clumpy. Say hello to the widest peepers you've seen!
Highlight till you make it.
Everyone who knows how to take a good photo will tell you the same thing—lighting is everything. And good lighting's best friend is a good highlighter. A lot of people think highlighter is pointless, and it doesn't really do anything, but you'll know once you actually use it. Use eyeshadow with a slight pearly feel to it or a highlighter, and dab it on the centre of your eyelids, underneath the brow bones, and on the inner corners of your eyes.
If your skin has pink undertones, then look for a highlighter with warm and rosy colours, while golden shades look much better on skin with yellow and olive shades.
Wing your liner.
Always wondered why the winged eye flick is so popular? Not only does that upward flick make your eyes look brighter and more awake, it also lengthens your eyes, making them look bigger. 

Use short strokes on the lash line, do a short flick upwards, and then fill it in depending on how thick you want the line to be. 
Don't forget the crease.

Your eyelid crease is important, if you want the illusion of bigger eyes. Apply white or a nude shade of eyeshadow to your lids, and then use a darker shade of brown to define the crease. Blend well, and open up to see the difference it makes.
Are there any tips you have for our readers for bigger eyes? Let us know in the comments.